The wind turbine industry has been subject to enormous growth in the past 10 years. But, if you believe the predictions, that is nothing compared to what we are about to witness.
The recent years' growth-spurt has created a competitive environment where innovation and adaptability is key to survival.
Trying to pinpoint what it takes to be competitive in the wind turbine industry of tomorrow, we reached out to Autonomous Drone Solutions, a Denver-based drone service provider currently working on a major AES wind-project.
A snapshot of the global wind turbine industry in 2021
The global wind market is predicted to reach an evaluation of $134,600 million in 2023 and $21 billion by 2026. [1]
The offshore sector, in particular, is expanding like never before, with an expected CAGR of a staggering 18% from 2020 – 2025. [2]
There are a few reasons why we have been seeing this massive growth in the past few years:
Rising demand for electricity around the world
A shifting trend toward renewable energy
Stricter emission mandates and regulations in large parts of the world
Significant technological advances, which have lowered the overall costs of operating WTGs
Investors have become more inclined to invest in large scale wind turbine projects
Europe is the largest wind turbine market in 2021, with a total of 65.6 GW of projects in the planning phase.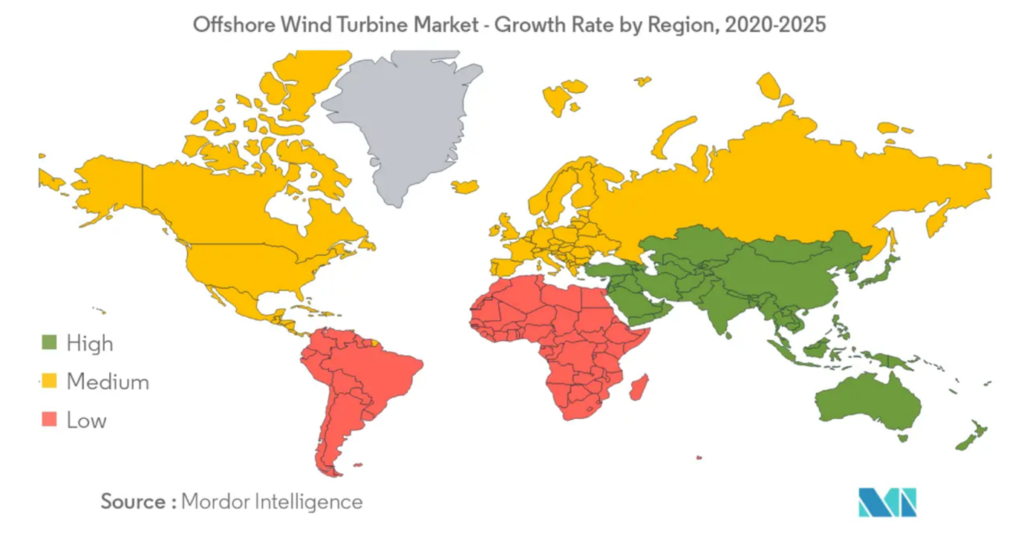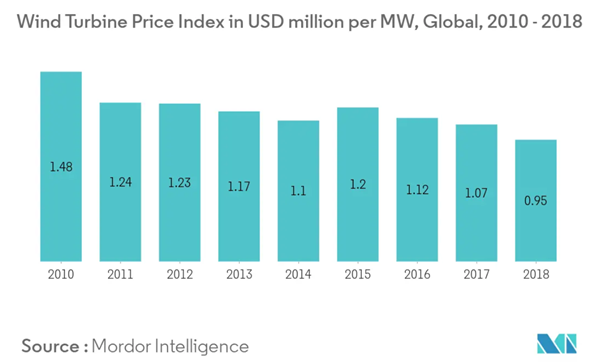 We are also seeing a trend towards larger turbines with higher production capacity. The average capacity of new turbines in 2019 was 2.75 kW which is an increase of 72% since 2009.[3]
Autonomous Drone Solutions – a story.
"Autonomous Drone Solutions was launched in July 2020 because we saw a need for improvement in the NDT inspection industry. A need for experienced wind industry professionals, offering autonomous drone inspections, rather than drone operators with little to no experience in the renewable energy industry."
– Garrett Calaway, Autonomous Drone Solutions
When we spoke to Garrett Calaway, he told us about a recent AES project Autonomous Drone Solutions is working on.
The company's services include providing drone, borescope- and uptower-inspection and repair services. Everything they do is based on their decades of experience with wind turbines, and their deep understanding of the day-to-day operations of a site.
Garrett has a decade of experience in the wind industry as a technician, engineering specialist, operations manager, and business development manager. Much of his time was spent climbing turbines, doing NDT inspections and repairs. This experience afforded him the opportunity to see the day-to-day operations of a site and understand the needs and requirements to operate safely and effectively in the renewable energy sector.
As Garrett himself says: we are a service provider who offers actionable data to our customers in a personalized package to fit each customer's specific needs. And they're very proud to do so.
I believe that drone flights are the future of industrial inspections.  Using top-of-the-line drones with optical- and thermal cameras, we are able to provide a more detailed, cost-effective, and safe alternative to traditional rope access and ground-based inspections. Drone inspections are less invasive on day-to-day operations of the site and drones allow for faster inspection times. In turn, the site assets are able to return to operation with less downtime, which is beneficial to everyone involved.
Autonomous Drone Solutions has partnered with Scopito to process their data sets, as they consider Scopito's reporting the best in the industry.

Upon completion of drone flights, their data is uploaded to Scopito for processing. This data is returned in an actionable engineering report with annotations that diagnoses the health of the customers blades.

"Our inspection images with Scopito's reporting helps our customers make intelligent decisions regarding repairs to support the health and longevity of their assets, " says Garrett.
As for the AES project, Garrett told us about, 3 sites have been secured by Autonomous Drone Solutions (ADS). In total, those three sites have 242 turbines and 32 transmission towers (138 of theses are being inspected in the next few months).

There's a lot of work involved in this project, but ADS stands securely in their industry knowledge and is already hard at work on the first three sites, while also working to secure the 4th site with 250 towers. They are using Scopito for the post-processing of all their images.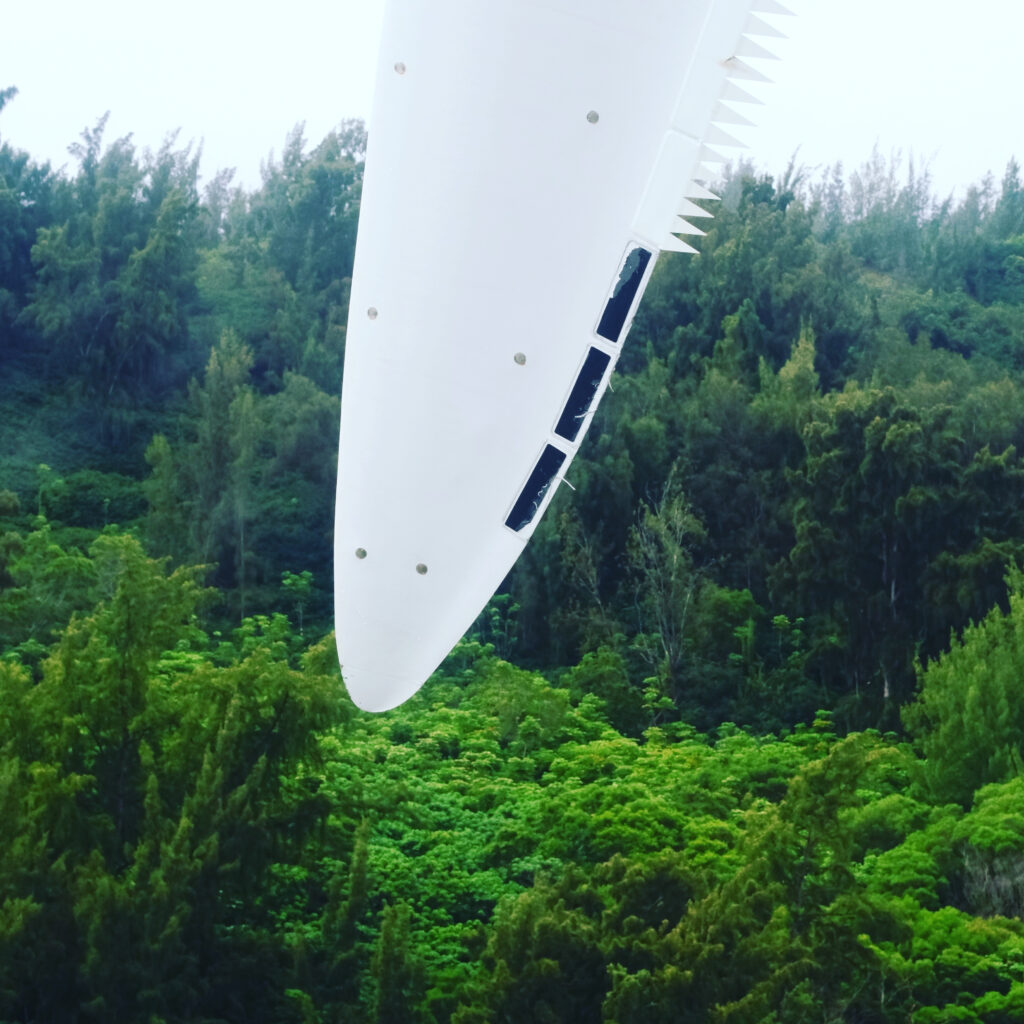 What are your predictions for the wind turbine industry?
At Scopito and ADS, we generally see a market moving in the direction of more turbines, more frequent inspections and larger turbines being build.
"There has been a lot of turbines built in past 10 years which now need blade-work because they are getting older. If you can perform those inspections faster and more efficiently, it provides a great opportunity to act faster and extending turbine life." Concludes Garrett Calaway.
We're here to help you better meet the requirements of your market. If you send us an email, we will. //Team Scopito
The future of the global wind turbine market.
The potential of the wind turbine market is undoubtedly great. Projections are impressive and the future looks bright. The challenge that remains is that of keeping up with the growing demand and supply, by developing technological solutions for the industry at a comparable pace.
Owners are putting a lot of effort into raising the overall system efficiency of their wind turbine fleets. One way to do this is by investing in more advanced turbine systems based on Artificial Intelligence, the Internet of Things, Robotics, Data Analytics, and Predictive Maintenance.
Though these are initially a costly investment in terms of time, the years they can add to a turbine's lifetime offer a return on investment of many hundred percent, especially when working with large amounts of assets.
Most turbine fleet owners today have advanced setup's for condition monitoring, invest in timely inspections and repairs, and funnel their data into predictive maintenance efforts, adding exponentially to its value.
Those were a lot of buzzwords. When we sit down for a meeting about your assets, we try to eliminate the big words and show you, visually, how what we do, can extend the lifetime of your turbines. If you tell us how to reach you, Dani will find a good time.
What do the next 5 years in Autonomous Drone Solutions look like?
In the next five years, Autonomous Drone Solutions are anticipating being able to provide autonomous drone inspections for 1,200 towers per year by 2022 and see growth potential reaching 4K annually by year 5.
With offshore wind farms coming to the United States, they are looking forward to supporting the needs of the offshore market, including baseline inspections as the sites come online.
With the continued growth of the renewable energy sector, they see the need for more routine annual inspections on the horizon and look forward to being part of the renewable energy sector of tomorrow.
---
---